Filters and searchoptions
Free psychic reading
Register for free on Chatspiritual and receive free minutes to start your free psychic reading. Discover what a psychic can do for you. You will always receive a chat conversation report in your account after a chat session with one of our psychics. Our psychics provide insights into love and relationships, work and career, and about personal developments.
Questions about love, work or future?


Psychic or Medium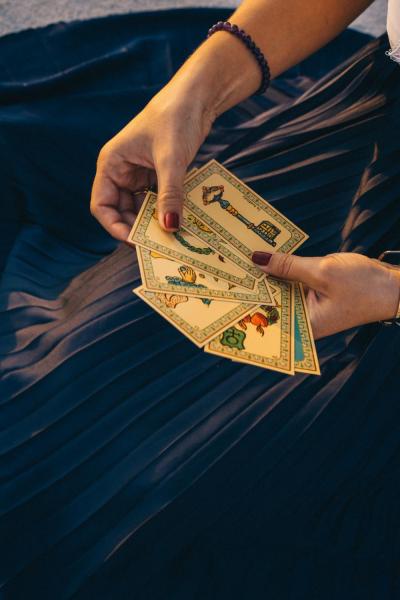 Our psychics are clairaudient, clairsentient or claircognizant. Some psychics will possess one of these abilities, but there are also psychics who will possess all of these abilities. While choosing a psychic, you can view all the gifts he or she possesses. Mediums on Chatspiritual can also connect with deceased loved ones. Mediums can pass on specific messages. They will gladly help you with any question except medical questions.
Card readers
On chatspiritual you will find various card readers who read spiritual cards, such as lenormand cards, tarot cards or angel cards. Tarot cards can be complicated to interpret. Do not hesitate to contact an experienced tarot card reader through chatspiritual, they will be able to offer you more clarity about your personal questions and situation. Start your psychic reading and get the answers you seek.
Fortune tellers
On Chatspiritual you will find several fortune tellers who can offer you more insights into love and relationships as well as work and career. Fortune tellers can use a pendulum or card readings as a tool to provide you with more insights. Our psychics and fortune tellers do not give medical advice on matters such as death or pregnancies. Of course, our psychics provide insights from their own discretion, and they will not be able to predict complete futures.
On chatspiritual you can receive a free trial chat after registering with one of our psychics, fortune tellers or mediums. After registration you will receive 2 free minutes to try it. Chatspiritual is not a subscription. Start your own psychic reading and receive insights right now.


Questions about love, work or future?
Can psychics really predict the future?
We believe not. Our fortune tellers and psychics will give their insights that they receive from their gifts, but will never be able to completely predict someone's future. Our fortune tellers and psychics offer a listening ear when necessary and provide advice and insights. Our psychics are ready to help you if you get stuck in your relationship or at work. After a reading on chatspiritual, people feel empowered again and have more motivation to continue in their current situation. You may not always hear what you wish to hear, but it can take you further on your own personal path. Personal growth is one of the most important aspects of a person's life these days. After all, we all want to get the best out of ourselves. Our psychics and fortune tellers are there for you to answer all your questions as well and clearly as possible.
How can I be sure that my personal situation remains discreet?
At chatspiritual we have a secure chat environment. All our mediums and psychics have years of experience at home and abroad. Our mediums and psychics do not give false readings with lies, but give real insights that they receive for you at that moment. All our mediums and psychics have undergone a screening. Start your own psychic reading to ask your personal questions about love, career, money, future or personal developments. Of course you will receive a free chat report in your account after your reading. This way you can read your psychic reading again in peace. After you register on Chatspiritual you can first contact a free psychic at no cost. This way you can first familiarize yourself with the psychic. Of course you can use the appointments button on the psychic's profile to send him/her a personal message. You will receive a reply to your email. A free messaging system that you can use once you are registered.
Psychics reading and reviews
Most readers will be happy to provide you with a free reading on chatspiritual. Our psychics like to show what they can do and that they are reliable and honest. After a reading, you will always be asked for your personal feedback. Critical feedback/ratings are also posted on Chatspiritual.com. Your feedback will be posted anonymously!
Psychic Reading
A chat reading is the best method compared to other reading methods. You can at your leisure type all your questions in advance, and send them directly after the psychic during your psychic reading. The psychic may choose to give you free minutes during the psychic reading, and often our psychics will do that to show you that they are reliable and not spreading lies. Our psychics are honest and committed to their readings, and will perform them with integrity. Read more about
psychics
Start your free chat ⟶