Chakra balancing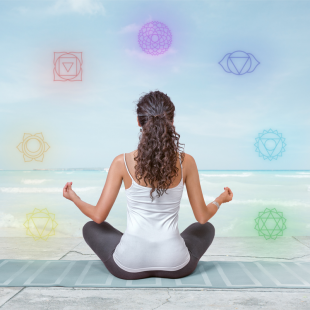 What are chakras? What can chakras do for us? And how can you balance your chakras? Read more about chakras in this article!
A chakra means an energy field that flows through our body. We know seven chakras that are subdivided, and all 7 chakras are connected to certain organs, reflecting how we feel. A chakra that does not flow properly can cause many difficulties. We may feel worse, or have no energy to take care of certain things. A chakra that is out of balance has a lot of influence on our life.
Blocked Chakras
A psychic, or medium who can tune into chakras, can tell you how your energy is currently flowing. If a chakra is blocked, you can bring your chakras back into balance with meditation. A chakra that comes back into balance can have many positive effects in our lives. It is certainly worth looking at how your own chakras flow, and where more positive energy can flow. You can already do a lot yourself to get your chakras in balance. Focusing on your breathing and meditating can already contribute to a better energy flow.
Chakra meditation
Do you feel that a chakra is out of balance? Start with a chakra meditation. Focus on the chakra that is not flowing properly, and pay attention to your breathing. Due to the higher vibration of the chakra music meditation, they will receive the healing, and will flow better. You can repeat this as many times as you want. Do you prefer personal contact and guidance regarding your chakra healing? Start a chat with a medium or psychic on Chatspiritual.
Love chakra
The Sacral chakra is the chakra that represents the connections with others. If this chakra is disturbed then you have a closed attitude, and you have trouble trusting someone. It can take a lot of energy if a chakra is blocked. With a disturbed Sacral chakra, the energy does not flow properly, and as a result you can feel listless. With an open Sacral chakra that flows well, you are open to the world, and you have full confidence in yourself. In combination with the heart chakra, these two chakras ensure a good connection in love. Read more about the
sacral chakra
Chakra colors
All 7 chakras have a color belonging to a chakra. The color also has its spiritual meaning. Read more about the meaning of chakra colors. Do you want to get to know all chakras? Read more about the
7 chakras
Chakra specialist
A conversation with a medium or psychic who is specialized in reading chakras can offer you many insights. It can be a relief to get your chakras more balanced. Curious how your chakras flow? Start a free trial chat with a chakra specialist on Chatspiritual
Chatspiritual is not a subscription.

Recognized Mediums

Free Conversation Report

Free reading
Start your reading ⟶
---
Date: 19-08-'22
Back to overview