Can a psychic tell if someone loves you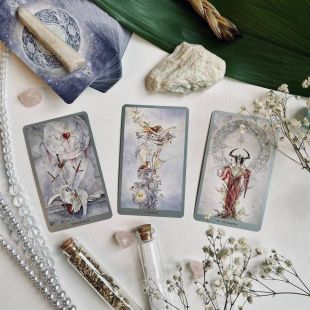 Can a psychic tell if someone is in love with you? Or is attracted to you? Read more about love questions and psychics in this blog.
A psychic can sense various things such as love questions, career questions or future-oriented questions. Each psychic works in his own way, and therefore differently. For example, a psychic can use the tarot cards for a love reading, but can also use the pendulum. What many psychics have in common is that they feel the energy of you, and your loved one, to gain insight. Due to the strong energy to which a psychic attunes, the psychic receives answers and passes them on during the reading.


Psychic gives insight about love
By asking a clear question, a psychic can provide clear insight into the field of love. It can happen that your partner or yourself has a closed energy that makes it more difficult to get closer to each other, even then a psychic can remove certain blockages. Chatspiritual has screened and reliable love psychics who are happy to help you, and provide you with honest answers. Only experienced, honest and reliable psychics are affiliated with Chatspiritual to ensure an honest reading.
What questions can I ask?
If your question is about love, you can ask almost any question. You can ask if another loved one is coming your way, but you can also ask questions about your relationship and how you can improve it. In addition, there are various love psychics that help you clarify the relationship with your twin flame, and guide you further in the process by providing honest answers.
Is he/she coming back?
How do I strengthen my relationship?
How is my twin flame in the connection?
How can I advance my love life?
How do I maintain balance in love?


Free love reading
You can start a free reading on chatspiritual by registering for free. You can test the system for 2 minutes and ask a love question, for example. Our psychics can always give you free minutes if necessary or desired. At Chatspiritual you are assured of an honest reading, in which empathy, trust and purity predominate.
Tarotcards drawing
The tarot cards are very special and powerful and can mean a lot if you want more insight into a certain person in your life, but also if you want to know more about the future of love. By entering into a tarot card love reading you will receive insight and you can continue with your life.
Past, present and future
It is also possible to use a tarot reading for career, personal development, finances or other topics.
Questions about love, work or future?
Do you have questions about love, work or future? Start a reading with experienced mediums, psychics, or HSP coaches. Get honest insights and answers to your life questions.

Chat Anonymously

Free Conversation Report

Recognized psychics

Free psychic chat

Secure payment: Paypal or creditcard
Start your free chat ⟶
Is any love psychic reliable?
In the spiritual world there is much to distinguish in reliability. On Chatspiritual you can be 100% sure that you are speaking honest and screened psychics, who have a real profile. Chatspiritual monitors the critical and positive feedback from customers who have entered into a reading on a daily basis.
Can I read back my love reading?
On chatspiritual you will receive a chat report after each reading. That way you can always read back or print your personal love reading.
---
Date: 11-10-'22
Back to overview