5 tips for a more positive life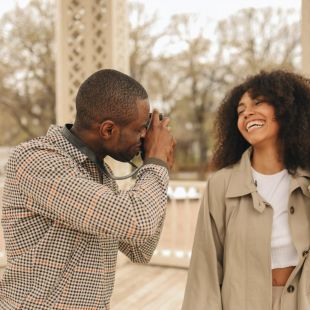 Discover yourself, and what you can do to become more positive in life. This will also attract more opportunities and luck.
We all want to be positive in life.. but how do you actually do that? What are certain pitfalls that you can avoid with a different mindset? Obstacles do occur in everyone's life, but how do you best deal with them?
Be more positive in life
Living a positive life, or being positive about yourself, is especially learning to think differently. You can attract positive energy. People are often concerned with what others think and want recognition for what they are good at. By putting less pressure on yourself or a situation, you already ensure that you end up in a relaxing energy that also provides a more positive view of your own life. Read below five tips that you can apply in your daily life.
#1 See disappointments as a lesson
When you have a setback, it's perfectly normal to feel emotional or frustrated, but it often just makes you feel bad about yourself or the situation. You can also turn it around by looking at the situation differently: this setback can turn out very well in the long run, even though it is not yet visible. In other words, try to see a blessing in the situation. Either way you get something out of it.
#2 Change your lifestyle
You can change your lifestyle in small steps. For example: sports, this can also include walking, cycling or another sporting activity. As long as it's active. A healthier diet is an important addition. Being active not only makes you more aware of yourself, but also creates a substance that makes you more positive. Changing a lifestyle is different for everyone, and can't really be prescribed. Make a plan with what you would like to see differently. Are you stuck? Or do you find it difficult to get started? Our coaches are happy to help you.
Questions about love, work or future?
#3 Determining boundaries
If you want to be more positive in life, you will have to learn to guard your limits. Sensitive people quickly tend to be there for everyone, which makes them more likely to forget themselves. They put their own needs aside for those of others. By becoming more assertive, you will create more balance in your life, which allows you to focus more on your own wishes. An important part of being more positive in life is balance.
#4 Meditate or Yoga
Meditation is a moment for yourself that focuses on higher vibrations. A meditation leads you to your deeper consciousness, through strong sounds. There are various guided or unguided meditations that will calm you down, and remove fears and worries. Meditating is good when you are anxious or insecure, but it also helps to enhance happy feelings. It's a good start to the day, or a nice ending. Yoga also fits well with the second tip, where you are consciously engaged with your mind and body.
#5 Strengthen intuition and learn to trust
By learning to rely more on your own strength, you create positive energy. Feedback from others that you can use is good to take with you, but you can let go of negative criticism. Follow your own path, and don't compare yourself too much (preferably not at all) with other people. Focus on grateful thoughts, and know that where you are now is part of your life purpose.

Questions about love, work or future?
Do you have questions about love, work or future? Start a reading with experienced mediums, psychics, or HSP coaches. Get honest insights and answers to your life questions.
Start your free chat ⟶
---
Date: 04-10-'22
Back to overview